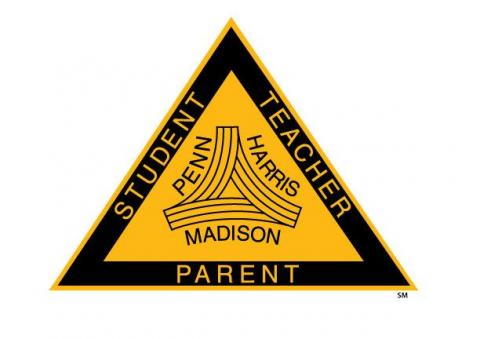 Penn-Harris-Madison School Corporation, 55900 Bittersweet Road, Mishawaka, Indiana 46545, 574/259-7941   Fax: 574/258-9547
Located in northern Indiana, Penn-Harris-Madison School Corporation has been serving students in eastern St. Joseph County since 1963.  Over the years, Penn-Harris-Madison has built a reputation for excellence in education that is recognized around the state.The district serves 10,600 students in 11 elementary schools, three middle schools and Penn High School. Thirteen of 15 schools received an A rating from the Indiana Department of Education last year (the other two schools were Bs)and Penn's graduation rate was 97 percent for 2013. The district maintains a commitment to high quality academic programs with a strong teaching staff, current technology, and excellent facilities.  Extracurricular and co-curricular programs consistently rank among the best in the state. Schools provide a safe, nurturing environment that brings out the best in each student and parent support and involvement is enthusiastic. 
The corporation encompasses approximately 135 square miles with the northern boundary along the Michigan state line, the eastern boundary along the Elkhart County line, the southern boundary along the Marshall County line and the western boundary along the Harris, Penn and Madison Township lines.
Board of School Trustees
The elected board is composed of seven members: Larry Beehler, Gary Fox, K. Jaye Galloway, Randy Leliaert, Chris Riley, Larry Romero, and Jamie Woods.
Dr. Jerry Thacker, Superintendent of Schools, 2012 Indiana Superintendent of the Year
2013 - 2014 Enrollment        
Penn High School (9-12)             3,350
Young adult, night school,              235
alternative school
Discovery Middle School (6-8)       883
Grissom Middle School (6-8)         610
Schmucker Middle School (6-8)    962
Bittersweet Elementary (K-5)         416
Elm Road Elementary (K-5)           481
Elsie Rogers Elementary (K-5)      287
Horizon Elementary (K-5)               589
Madison Elementary (K-5)              130
Mary Frank Elementary (K-5)          354
Meadow's Edge Elementary (K-5) 324
Moran Elementary (K-5)                  451
Northpoint Elementary (K-5)           563
Prairie Vista Elementary (K-5)        493
Walt Disney Elementary (K-5)        471
Test Scores: Spring ISTEP+ 2013
(Indiana Statewide Testing for Educational Progress)
Scores represent percent of students passing ISTEP+
                English/Language Arts   State           Math           State
Grade 3      94                                   85                89                 80
Grade 4      93                                   84                93                 84
Grade 5      89                                   79                95                 87
Grade 6      89                                   77                94                 84
Grade 7      88                                   74                93                 80
Grade 8      92                                   76               95                 81
                Science                            State           Social Studies   State
Grade 4      n/a                                    n/a
Grade 6      n/a                                    n/a
Grade 5                                                                  81                      70
Grade 7                                                                  89                     72
More information on Penn-Harris-Madison test scores.
Penn High School scores:  2013
624 graduates took the SAT with an average score of 1052 (average score in Indiana was 993)
249 graduates took the ACT with an average score of 23.4 (average score in Indiana was 21.7)
More information on Penn High School SAT and ACT scores. 
Academic Programs
The corporation provides a strong educational program based on a curriculum aligned with state standards.  There is an emphasis on critical thinking and problem solving and subjects are integrated in order to create a learning experience that is relevant.
A program for gifted and talented students is offered from kindergarten through eighth grade.  It provides a variety of extended learning opportunities to high ability students.  Teachers are encouraged to differentiate instruction to meet the needs of all students.  Academic competitions provide students with another way to pursue their academic interests and art and music play an important role in the school experience at all grade levels.
Penn High School has an extensive curriculum that offers opportunities in a variety of subjects.  Advanced placement classes and an academic honors diploma are available along with an integrated program that blends course work with career experience.  In addition, Penn has partnerships with area colleges and universities that make it possible for students to earn college credits.
Technology plays an important role in supporting the curriculum by providing access to information and resources that enrich the educational experience.
Special education is available to qualifying students who are integrated into the regular classroom.
High school diplomas available to veterans of WWI, WWII, Korean conflict and Vietnam conflict
The Board of School Trustees has adopted Policy 9800 that recognizes the sacrifices of veterans and that many left high school in order to serve their country. The board wishes to recognize their efforts by awarding them a high school diploma. The criteria that must be met in order to qualify for a diploma are listed in the text of the policy.
Personnel  2012-13                        1,105
Administrators                                       47
Teachers                                              485
Guidance                                               14
Educational Services Personnel     164
Custodial                                                62
Food Service                                          81
Maintenance                                          17
Mechanics                                               5
Bus Operators                                    124
Technicians and Aux. Support           52
Kids Club                                               54  
Transportation
Transportation is provided for all students who live within the district.
Number of buses                136
Number of routes:              105
Number of activity buses        2
Students transported       9,331
Daily total mileage           4,771
Eligibility
Students must have legal settlement in the Penn-Harris-Madison School Corporation or apply per board policy to attend as a non-resident student. Children must be five years old by September 1 to be admitted to kindergarten in the current school year and six years old by September 1 for first grade. Non-resident students must be in good standing in their current school. There is no tuition fee. Families must provide transportation to and from school. Please do not withdraw your child from your current school until he or she has been accepted at Penn-Harris-Madison. 
Mission Statement
Our mission is to provide an educational environment for students to reach their highest academic achievement. We will prepare them to be responsible, healthy, contributing citizens who have acquired the skills to be lifelong learners ready to adapt to a changing world.
Vision
Our curriculum is clearly defined, rigorous, integrated with technology, frequently assessed to reach every student, and supported by innovative teaching strategies.
Our students are lifelong learners who demonstrate creativity, analytical problem-solving, and are engaged in positive social, emotional and healthy life skills.
Our school climate is the result of communication and collaboration among the administration, parents, teachers, staff and students. A safe and personalized learning environment in our schools nurtures the whole child.
Our personnel are highly trained individuals who model innovative best practices in all areas of their job assignment. Continuous opportunities for professional development are provided to support their performance at the highest level.
Our creative and visionary leadership team exhibits responsible fiscal management that is committed to our mission and is accountable to the community.
Our corporation seeks to collaborate with the greater Penn-Harris-Madison community in support of our mission.
Values
We value learning as a priority and challenge all students to excellence through a continuous improvement model.
We provide a healthy, safe, respectful and nurturing learning environment.
We support continuous professional growth of a quality staff. 
We model a collaborative relationship between students, staff, and parents.
We value community partnerships.
We respect the uniqueness of each student.
We demonstrate fiscal responsibility in support of our mission.
Goals
Annually, all students will achieve proficiency as measured by state standards in core academic areas through multiple assessments.
Annually, all students will demonstrate continuous academic progress through multiple assessments. 
All 10th grade students will demonstrate mastery of the proficiencies on the Graduation Qualifying Exam. 
Annually, expenditures will not exceed revenues as measured by the certified budget.
 
---
P-H-M Profile of a Graduate
Be an effective communicator both technically and personally who:
Reads and comprehends written materials.
Communicates thought, ideas and information through writing.
Applies active listening skills.
Communicates thoughts, ideas and information through speaking.
Uses technology as a tool for communication. 
Be a problem-solver who:
Uses basic and advanced academic skills to solve problems.
Uses higher order thinking skills.
Collects, analyzes and assesses information related to problems.
Develops and evaluates possible solutions.
Chooses and implements solutions.
Be an effective contributor who:
Expresses own ideas.
Possesses skills to be an independent thinker and cooperative worker.
Solves problems as a contributing member of the group.
Uses leadership skills. 
Be a lifelong learner and contributing member of society who:
Consistently produces a quality effort.
Is self-disciplined and can develop and implement plans based upon established criteria.
Has a positive and healthy self-concept.
Knows how to acquire and apply new knowledge and skills.
Possesses a global awareness.
Models good citizenship and contributes to the community.
Understands the changing world of work and how to acquire the necessary real life skills to remain productive for a lifetime.
Respects the worth, rights and feelings of others.